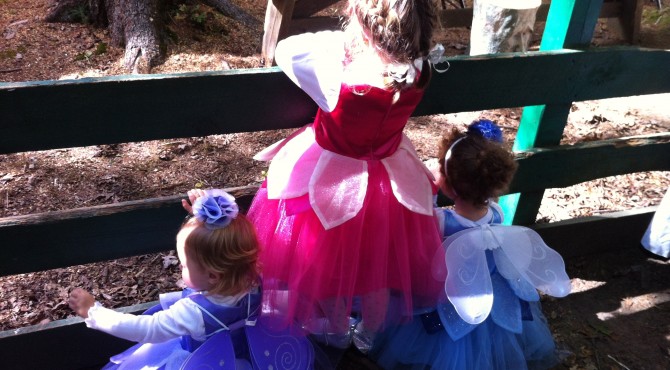 There are a couple of highlight events that we participate in every year. One of them is PAX East, in the spring. The other is King Richard's Faire, every fall in Carver. The Faire is like my costume Olympics. This year was pretty tame; I only made two and a cloak. Last year I had 8!! costumes that I made. So far next year is already looking like it'll be another big year.
One of the problems I run into with doing a lot of costumes for the little ones is that I can't start them too far in advance; I've run into problems with them sprouting up in the time between when I take their measurements and when the Faire happens. As a result, I have to find patterns that are quick, easy, and reliable.
There's been a lot of backlash lately in some of my online sewing groups against the big pattern companies (Simplicity, McCalls, Butterick, Vogue) in favor of independent designers. I'm all for supporting small business and independent artists. They are fantastic. I've also run into some less than stellar patterns from the big companies. For now, though, finding the costume pieces I need from a small designer is tough to do, and I haven't quite reached the level where drafting my own patterns is practical. So I keep buying the big patterns when they go on sale for a dollar or two and, as my husband can tell you, I've created quite a collection.
One of my absolute favorites is Simplicity 1792: The Disney Fairies.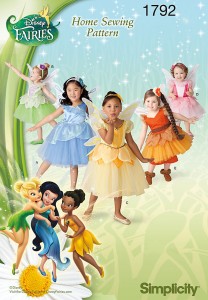 Simplicity 1792: Toddlers' and Child's Disney Fairies Costume Sewing Pattern
For the last two years, Auntie Mimi's little girls have been pretty, poofy fairies. These costumes are a delight to sew and are so adorable. The fabric requirements are fairly minimal, which means that you can splurge a bit and get some of the fancier special occasion fabrics to make your fairy a little extra sparkly.
Because it gets a little chilly here in New England in the fall, they usually wear long sleeves and tights under their dresses, but it doesn't take away from the cute factor of these costumes.
My favorite part about making these is putting together the tulle layers. It's a little tricky and you wind up with a circle about 6 yards in circumference that gets gathered down to a little 20 inch waist. It's crazy. Since the skirt is so full, it bounces and sways as the little ones run around. They always turn heads, especially in a group (It helps that they are completely adorable little girls).
I will say that having a serger definitely comes in handy for this pattern. The waist is made up of the bodice, two layers of petals, two layers of tulle, and a cotton lining. This can get a little… out of hand.
However, one quick pass on the serger and everything is all neat and tidy. This is even more important since a lot of the costume and special occasion fabrics that make a fairy sparkle and shimmer have a tendency to fray pretty badly. Plus, a nice finished edge is much more comfortable for little ones to wear.
For that little something extra, I whipped up some double layer fabric flowers. Two of my little ones got headbands, one got a hair clip. I'll do a tutorial on them soon, since they were so fast to make and created such a big impact.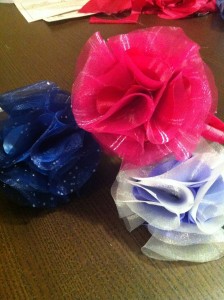 I think I could dress my little ladies up as fairies forever. Watching them dance around and run through the trees, it's hard not to believe in magic.