It doesn't matter what you're trying to do; if you don't have the proper tools, you're going to have a hard time getting really great results.  For me this is especially true in the kitchen.  The basics are important, like a good knife and a sturdy set of pans, but these are a few of the extra things that I now find I can't live without.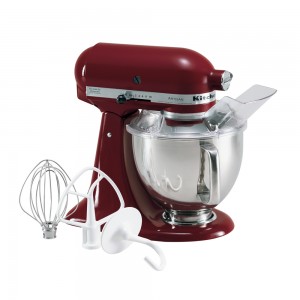 Stand Mixer
Sure, you can cook without a stand mixer.  Be warned, though, once you start using one, you just can't go back. We've had a KitchenAid stand mixer for as long as I can remember. I'm fairly certain that my mother's mixer, still in great working order, is older than I am.  The standard attachments that come with it are a mixing blade, a dough hook, and a whisk.  With those three you can do pretty much anything. For me, it's a must for cookies and bread.  I use it for fresh whipped cream and homemade marshmallows.  My mother even uses hers to mix up meat and spices for meatloaf or hamburgers
For the KitchenAid mixers, there are lots of bonus attachments you can get too.  I've got the ice cream maker and the slicer.  There is also a pasta maker, sausage stuffer, ravioli cutter.  It seems like new ways to use my mixer are coming out all the time.  A stand mixer may be a fairly significant initial investment for your kitchen, but if you plan on doing any large amount of cooking, I highly recommend picking one up.
Dutch Oven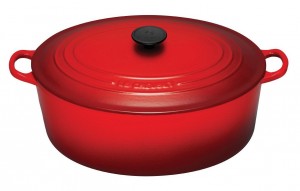 This is my go to pot for soups and stews.  It's a heavy duty cast iron pot with an enamel coating inside and out.  It's oven safe which makes it perfect for stews that need to bake in the oven. The enamel makes it really easy to clean even when food gets burnt onto the bottom. There are a large variety of sizes all the way down to little personal sized pots (someday I will figure out a use for those).  I've got the 5.5 quart size which I find to be pretty perfect for just about everything I make.  I'll probably pick up a slightly smaller one sometime for those few occasions when the 5.5 quart was really too big. There are tons of designer colors if you're one of those people who likes all their kitchen stuff to match.
Le Crueset is the most common brand, though there are plenty of others out there.  They can be really pricey at kitchen stores. I've gotten mine at Home Goods.  They've been factory seconds, but there's really not a whole lot wrong with them.  The one I currently use had a little bubble in the enamel on the outside.  It was just enough for the factory to send it to the discount store, but certainly not anything that affects the cooking at all.  If you do pick one up at a discount, just give it a good check to make sure that the inside is up to snuff.  If it is, you should be all set.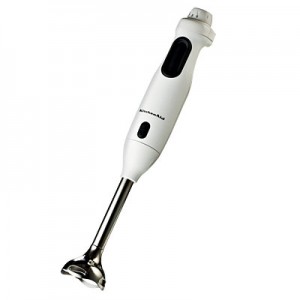 Immersion Blender
This is a fairly new addition to my kitchen arsenal.  I don't use it all that frequently, but when I do, I'm very glad to have it; there is no other tool that would get the job done as quickly and easily.  The immersion blender is basically the blade from a standard blender on the end of a stick instead of at the bottom of a carafe. I most often use mine when making soups to take them from chunky to a little creamier.  Instead of having to ladle hot soup into a blender in batches, I can just use the immersion blender on the whole pot and get the perfect texture in no time.  It give you a lot more control over just how much you blend.  If you were making something really smooth, like tomato soup, I think an immersion blender may not be the best choice. However, for things like thickening up lentil soup, it does the job perfectly.
Some versions come with other attachments, like whisks or bowls so that they can be used in place of a larger food processor.  They're not particularly expensive and don't take up much space, so I think they're a pretty great addition to any kitchen.

Pepper Grinder
This might seem like an odd addition to the list, but I can't stress the importance of fresh ground pepper.  All spices are better when they are ground fresh when you need them.  This isn't always the most convenient thing.  However, pepper is so important when cooking that it is imperative that you have a good pepper grinder filled with high quality peppercorns.
The most important factor when picking out a grinder is to make sure that it grinds evenly.  If it is also adjustable for a coarser or finer grind, that's great too.  As long as all the pieces are roughly the same size, you're in good shape.  I actually prefer a grinder with a smaller reservoir for peppercorns. It means that you'll be refilling it more frequently which keeps the pepper fresher.  We keep two grinders in the house; one is for the kitchen, the other for the dining table.  It keeps us from having to find the pepper every time we need it.
This is a brief list of the tools that will always have a home in my kitchen.  I use them often and they make cooking so much easier and more enjoyable.