Guys, I'm not exaggerating here when I tell you that this is the most delicious carrot cake you will ever eat. That's not hyperbole, it's just the honest truth.
The original recipe is designed to be  bundt cake with a vanilla glaze. It also works perfectly well as cupcakes with cream cheese frosting. The baking instructions below are for the bundt cake. For cupcakes, I cook them for about 25 minutes, rotating halfway through. (You do rotate your pans while you're baking, right? Good.) I was worried that they were taking so long to cook, but I fill my cupcakes pretty full and this particular batter just takes a while to cook. Keep an eye on them; better to check on them more often than have them burn.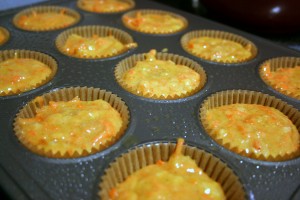 Some people like nuts or raisins in their carrot cake. While that may not be my personal preference, it's easy to add them to this recipe; just mix them in at the end. I like to add about a quarter teaspoon of cloves in addition to the nutmeg and cinnamon. Cloves are my favorite spice, and they give it a warm sweetness.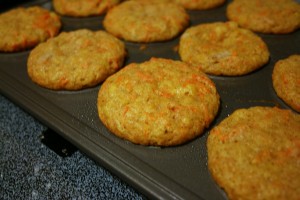 I'm serious, though. This is the best. If you enjoy carrot cake even a little, you owe it to yourself to bake these (or get someone else to bake them for you).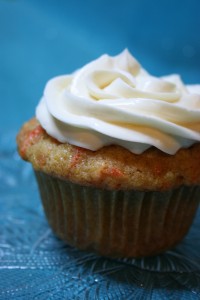 Carrot Pineapple Cake
3 cups all purpose flour
2 cups sugar
1 teaspoon baking powder
1 teaspoon baking soda
1 teaspoon salt
1 teaspoon nutmeg
1 teaspoon cinnamon
3 eggs, beaten
1-1/4 cups cooking oil
2 teaspoons vanilla
1 cup (8.5 oz can ) crushed pineapple, undrained
2 cups grated raw carrots, loosely packed
Preheat oven to 325. Grease bundt pan.
Mix together flour, sugar. baking powder, baking soda, salt, nutmeg and cinnamon in a large bowl.
Make a well in the center of the dry ingredients and add eggs, oil and vanilla. Blend thoroughly.
Stir in undrained pineapple. Add carrots and pecans. pour into prepared bundt pan.
Bake for 1 to 1-1/4 hours until cake tests done.
Cool 10 minutes in pan, then turn out and finish cooling on wire rack. Add vanilla glaze.
Vanilla Glaze
1 cup sifted confectioner's sugar
1 tablespoon milk plus 1/4 teaspoon vanilla
1 tablespoon light corn syrup
Combine all ingredients and beat until smooth. Use spatula or large spoon to put glaze on top of cooled cake. Spread around top of cake with a knife. Glaze should run down sides slowly.
Cream Cheese Frosting
16 ounces cream cheese, room temperature
1 cup confectioners' sugar
2 teaspoons pure vanilla extract
Put cream cheese into the bowl of an electric mixer fitted with the paddle attachment. Mix on medium-high speed until smooth. Reduce speed to medium-low, and mix in sugar and vanilla. Raise speed to medium-high, and mix until fluffy, 5 to 7 minutes.