One of the benefits to being "Auntie" to everyone's kids while having none of my own is that I have the time to go completely overboard for birthdays and holidays. When my sweet, adorable girly Ava wanted to have a pirate birthday party, I was very excited. She is definitely a girl after my own heart.
We just finished moving (well, are you ever really finished moving?) so I didn't have the time or set up to do as many projects as I would have liked, but I did get to make Ava's birthday cake.
I based it off a cake from the 2010 Wilton Yearbook. The original was just a square cake with wood texture with a whole bunch of little brownie pop pirates on it. Since there were going to be quite a few people, we used a store bought sheet cake as a base.
Having a summer birthday myself and having watched the horn slide off a unicorn and Rainbow Brite's castle sag in the heat, I wanted to make sure things were going to stand up to the sun. I made the square boat base out of Rice Krispy treats and covered them with brown fondant. I put in the wood texture and added the rails along the top.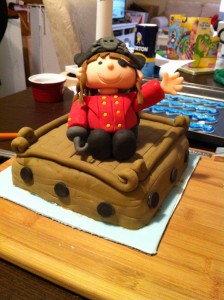 The little girl pirate figure is made entirely out of fondant. She weighs a ton. Her little curls were my favorite part, and most of them actually made it to the time the cake was served.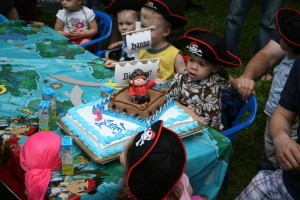 So, while the cake was the biggest of my piratey projects, it wasn't everything. After Brian and I picked out some sweet gifts, I couldn't be happy just wrapping them in pirate wrapping paper (Target has a really cute one, though).
I stained an unfinished treasure chest from Joann's and put sticky felt on the bottom so it wouldn't scratch their wood floors. Then I put in the wrapped gifts and put the whole shebang in a cellophane bag. When all was said and done, it really made quite an impact.
I also tried out those new Sally Hansen nail polish stickers. These were too perfect for me not to get! They went on almost as easily as the commercial would have you believe, and lasted for quite a while, even at work.
I had so much fun at Ava's pirate party. I even went in the bouncy house. Now I can't wait for the next birthday party to come around.