These quilts appeared in a post on my other blog, but I thought they'd fit very well here.
There has been a bit of a baby boom in my group of friends.  There are now six children three years old or younger.  As a result, I've been making a lot of baby quilts.
It's hard to believe that the twins I made these quilts for are almost a year old. Usually these baby quilts come one at a time. I usually prefer patterns that are a little complicated to hold my interest.  In this case, I had to make two at once.  Since the father is a big D&D and Warcraft player, I wanted to make sure that the quilts had a nerdy vibe to them. I had to balance making them different from each other but still make production easy enough to make two at once. In the end I opted to use the same pattern but with different fabrics.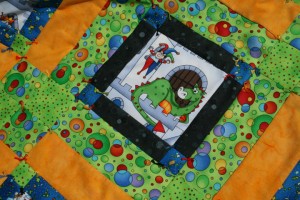 The first was based around a fantastic fabric I found with a large print of knights and dragons in a castle.  I fussy cut the center squares and pulled coordinating fabrics for the borders.
I wasn't sure about using black on a baby quilt.  However, it really made the outlines in the large print pop. Without it, the entire quilt would have looked pretty flat.   My only regret on this one is that the two green prints are a bit too close in color and design.  From far away, they really blend together.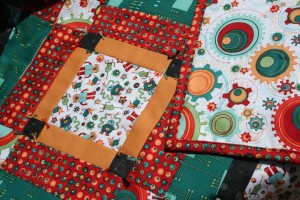 The second quilt was based around a set of robot and gear fabrics that I've loved for a long time.  I had bought a set of fat quarters a few years ago just because I thought they were so adorable.
The great thing about these fabrics is that the colors are so different from what you typically see in baby quilts.  That made color matching a bit more difficult, but there were quite a few coordinating fabrics available.
Both quilts were hand tied; machine quilting is still something that I find a bit intimidating.  I'm hoping to work on that for the next quilt I do.  I think it will go a lot faster and hold up a lot better in the long run.
The boys love their blankets, and at least one of them is always on hand at all times.  With their first birthday coming up at the beginning of next month, I'm not sure how I'll be able to top myself on this one.