There's probably no one that appreciates a handmade gift better than a fellow crafter. This past Christmas, I tried to keep the number of gifts I had to make down from my usual unrealistic goals. I couldn't help making this kitting bag for my very talented friend Jo.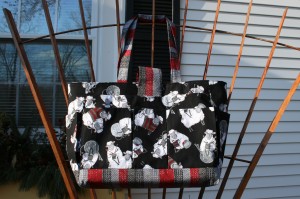 Jo, whose amazing work can be seen here, is a fiber artist extraordinaire. She spins, knits, crochets, and now weaves. There is nothing this girl can't do. It seems like she's always going off to meet with one group or another or take a class here or there. What better gift could I give her than a bag to carry all her supplies in?
Given her love of sheep and sheep related products, I figured they would be the obvious choice for fabric for her bag. How happy was I to find knitting sheep along with two awesome coordinating fabrics?
This bag pattern was really great. It's a ton of pieces, which worried me, but it actually went together really smoothly. It's got lots of pockets on the outside, and the inside has plenty of space for anything you might want to carry.
Since giving Jo her bag a couple weeks ago, I've received orders for three more in varying fabrics. I guess the bag market might be something I want to look in to.