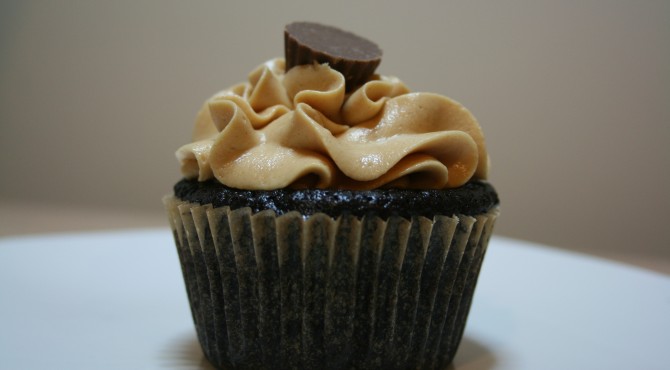 You may have discovered by now, dear readers, that I am a fan of celebrations. Any excuse to gather people together, have good food, and generally promote warm and fuzzy feelings is fine by me. Recently, it was our store manager's birthday. While working retail may not be my ideal situation, I at least have the advantage of working in a place where we all feel like family. So there was no way this occasion was going to pass by unmarked.Edit
Here's the catch: He's gluten-free.
I'm not one to panic about such obstacles. I was, however, determined to make something outstanding. I've cooked for vegetarians, vegans, diabetics, and people with nut allergies (fortunately, not all at the same time). Adding a few gluten free recipes to my repertoire wouldn't be bad. Chocolate and peanut butter are his favorites, so I went looking for something.
Flourless chocolate cake is a popular option for going gluten free. My problem with this is that it tends to be super rich and heavy. Not ideal for a casual mid-afternoon in-the-breakroom celebration. I really wanted cupcakes.
Fortunately, I stumbled onto this recipe from Chocolate & Carrots. It had all the qualities I was looking for. Perfect. Alright, here we go…
Gluten-Free Chocolate Peanut Butter Cupcakes


Ingredients
1 (15.5 oz) can of reduced sodium black beans, drained and rinsed
Wait, what? Did I read that right? Yes, yes I did. Okay, okay, no one panic. I mean, beans in desserts aren't entirely unprecedented. There are Chinese red bean cakes, for example. ::deep breath:: Alright, I'm sure these will be good. Let's just keep going and see where this all goes.
Gluten-Free Chocolate Peanut Butter Cupcakes

Ingredients
1 (15.5 oz) can of reduced sodium black beans, drained and rinsed
4 eggs
1 tablespoon vanilla extract
5 tablespoons unsalted butter, or coconut oil
3/4 cup cane sugar
5 tablespoons special dark cocoa powder
1 teaspoon baking powder
1/2 teaspoon baking soda
12 Reese's Peanut Butter Cups, unwrapped
Preheat oven to 350°.
Line a 12 cup muffin pan and spray with cooking spray.
Blend the beans, 2 eggs, vanilla and sugar in the food processor (or blender) on high until completely blended.
In a small bowl combine the cocoa powder, baking powder and baking soda.
In a large bowl, beat the butter/coconut oil until fluffy.
Add the remaining two eggs and beat well after each egg.
Beat in the bean mixture.
Beat in the dry ingredients.
Beat for 1-2 minutes.
Pour the batter into the prepared pan and place a Reese's cup on the top.
Bake for about 20-25 minutes until the cupcakes are cooked completely.
Allow them to cool completely before icing.

Peanut Butter Frosting
Ingredients
1 cup creamy peanut butter
5 tablespoons unsalted butter, softened
2 cups powdered sugar
1/2 – 2/3 cup whipping cream (heavy cream)
12 miniature Reese's Peanut Butter Cups
Beat the peanut butter, butter and powdered sugar until combined.
Add in the whipping cream and beat until light and fluffy.
Use a piping bag with your favorite decorating tip and decorate the cupcakes or use a knife and spread to decorate the cupcakes.
Decorate with a mini Reese's Peanut Butter Cup.
Okay, not going to lie, the whole beans-eggs-sugar concoction in the food processor was kinda gross looking. I did my best to press on and finish the batter. When it was all together, it looked and smelled like cupcake batter. I was starting to feel better about things.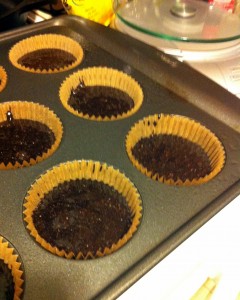 Then, I added the mini peanut butter cups. This really made me feel better about things.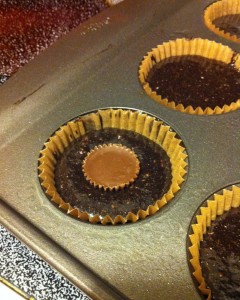 As they baked, I couldn't help but feel like these cupcakes were a lie of GLaDIOSian proportions. They certainly did make my house smell chocolatey.  Once they were out and frosted, I was really happy with how they looked. There was only one test they had left to pass.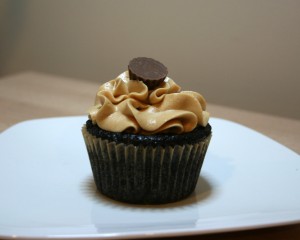 I brought them in to work the next day. Let me tell you, they were delicious. They were light and fluffy, not at all heavy like a traditional flourless cake. This peanut butter frosting is amazing; it's definitely a recipe I'll be using on other chocolate cupcakes.
I would make one minor change to the entire process. I think it would work better to let the cupcakes bake about 5 minutes before putting the mini peanut butter cup in the center. As it was, they sank to the bottom instead of being stuck in the middle. Other than that, I couldn't be happier with the outcome.