I mentioned the other day that independent pattern designers are becoming very popular, especially with the kids' clothing set. I happen to agree with this. The patterns are generally reasonably priced (though not as cheap as when I buy my paper patterns on sale for a dollar) and most have the added benefit of being an instant download pdf. Who doesn't love instant gratification?
One of my absolute favorite independent designers is Jen over at Tie Dye Diva Patterns. Her patterns are impeccably drafted, and her instructions are always crystal clear. Even better, she has a very active Facebook community page, so if you do have a question, you can ask her directly.
While most commercial paper patterns are printed on large (36″x48″) pieces of paper, most instant download patterns are designed to be printed on standard letter size paper and taped together. All you have to do is print and assemble them, then cut whatever size you need. I've read a tip about using tissue paper to trace the size you need, but I haven't gotten around to giving that a try yet.
When Sue told me Emma was having a Finding Nemo themed birthday party, I offered to make a dress. Unfortunately, Nemo fabric is hard to come by. I was able to find a really cute Nemo applique from The Enchanted Hollow on Etsy.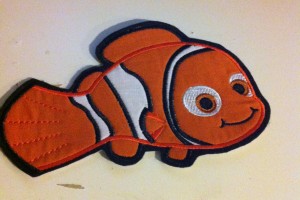 When it arrived, I was delighted with the quality, but was a little concerned about the size. There were several size choices available, and I thought maybe I had gone a little crazy and gotten one a bit too big. I got over that and decided it would work well on one of the Tie Dye Diva "Perfect A-line" dresses. I found a cute teal corduroy with silver sparkle. The lining (though actually, the dress is designed to be reversible) is an orange print. I put the Nemo applique down the bottom. The simplicity of the dress and the solid colored fabric were perfect to go with the somewhat over-sized applique.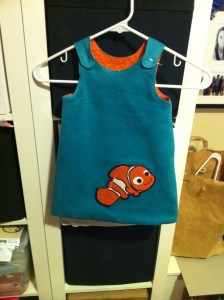 All I had to do was add a couple of orange buttons and it was all set for Little One's birthday. She loved her dress and just kept pointing at the applique and exclaiming "Nemo!" That's what makes sewing for the kidlets so much fun.