This is it. This is the year. This year I'm finally going to sign up for a CSA.
What's a CSA? It stands for Community Sponsored Agriculture, and it works sort of like a Kickstarter for farming. Growing vegetables to sell has a high start up cost, and it takes a while before you have any product to sell to start recouping some of those costs. What a CSA allows farmers to do is sell shares to people in the spring, when their spending is high. Then, once the harvests start coming in, those people who purchased shares get a supply of fruits and vegetables every week. It's like taking care of all of your produce shopping for the season up front.
CSAs, like farmers' markets, are growing in popularity. With the return to eating local and in season foods (hooray!), more and more people prefer to get their produce straight from the source rather than something transported in from far away. As a result, they are getting easier to find.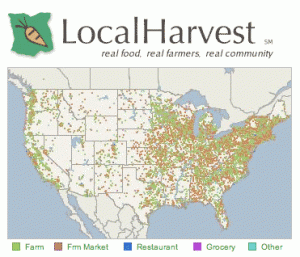 Enter localharvest.org. This is a fantastic resource that I stumbled upon when searching for a CSA near our soon-to-be new home. You can use it to search for farms, farmers' markets, CSAs, even online stores and restaurants that serve food made from local ingredients. Each farm in their database has a listing that provides information on the services they offer (CSAs, market days) and even what types of produce they grow and approximately when it is available. This is an especially handy feature for those who aren't gardeners and are still learning when certain produce is available in their area.
They also provide contact information for all the farms in case you've got questions. I find most farmers are super friendly and more than willing to help you with any questions you have. It's not just for produce either. A quick search shows that there are meat and seafood CSAs available in addition to the more traditional fruits and veggies. Many also offer things like fresh milk, eggs, and honey. (You all buy local honey, right??!?)
CSAs vary greatly from one another; some have set produce for each week, some allow you to choose your favorites. Some deliver and some have pick up locations. Be sure to read the listing carefully and ask any questions to make sure that the CSA you choose is the right one for you.
LocalHarvest.org (also on Facebook and Twitter) is just another example of how using the technology and resources at hand can help you live better. Imagine if all these farms had to rely on word of mouth or flyers and ads in the newspaper. I'm sure they wouldn't be nearly as successful as they are now. This expansion of the online community has really allowed these smaller growers to be more competitive and offer their superior product to more people in a world previously dominated by factory farms.
(Speaking of Facebook and Twitter, have you joined The Nerdly Home social network yet? Follow, like, etc. today!)