I hadn't really intended to do another recipe post this week. When I woke up to a perfect autumn day and a bag of freshly picked apples, I knew a crisp was in the cards for today.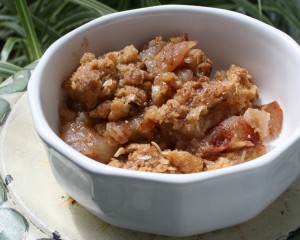 In general, I don't really like pie crust.  When buying pies from the local orchard, I always get crumb topped and, more often than not, the bottom crust of my serving gets thrown away. As a result, apple crisp is one of my favorite fruit goodies.
The fantastic thing about this recipe is that you can adapt it to suit your needs. If your apples are really sweet, you can decrease the amount of sugar in the filling. You can alter the spices if you like. You can leave out the cloves or decrease the amount of cinnamon. I've even been known to add a dash of ginger when I'm feeling a little exotic. The warm spices and zesty citrus guarantee delicious results even when using less than perfect apples. Plus, the topping has oatmeal in it; that makes it a breakfast food, right? Right?
Old Fashioned Apple Crisp
Filling:
● 5 pounds McIntosh or Macoun apples
● Grated zest of 1 orange
● Grated zest of 1 lemon
● 2 tablespoons freshly squeezed orange juice
● 2 tablespoons freshly squeezed lemon juice
● 1/2 cup granulated sugar
● 2 teaspoons ground cinnamon
● 1 teaspoon ground nutmeg
● 1/2 teaspoon ground cloves
For the topping:
● 1 1/2 cups flour
● 3/4 cup granulated sugar
● 3/4 cup light brown sugar, packed
● 1/2 teaspoon kosher salt
● 1 cup oatmeal
● 1/2 pound cold unsalted butter, diced
Preheat the oven to 350° F. Butter a 9 by 14 by 2-inch baking dish.
Peel, core, and cut the apples into large wedges. Combine the apples with the zests, juices,
sugar, and spices. Pour into the dish.
To make the topping, combine the flour, sugars, salt, oatmeal, and cold butter in the bowl of an electric mixer fitted with the paddle attachment. Mix on low speed until the mixture is crumbly and the butter is the size of peas (this can also be done by hand). Scatter evenly over the apples. Dust lightly with a pinch of cinnamon.
Place the crisp on a sheet pan and bake for 1 hour until the top is brown and the apples are
bubbly. Serve warm (with whipped cream or vanilla ice cream, if desired).