There's something to be said about the old way of dropping off a roll of film when you got back from a family vacation.  By the time you finished unpacking, the prints would be ready and you could relive the fun times of your trip all over again. The prints were then put into a photo album (doubles and embarrassing photos were hidden behind other pictures) and could be enjoyed at any time.
The digital photography revolution has certainly done a lot of positive things for vacation photography.  First of all, there's no need to worry about the cost of developing and printing all those pictures.  You're free to snap away as long as the memory cards hold out.  Also, you don't have the problem of picking up a set of prints only to discover that you'd forgotten to turn the flash on. You've got instant access to the photos you've taken, and it is much simpler to send those pictures to Grandma, often before you even get home. However, after the trip is through, more likely than not the digital files get relegated to a corner of the hard drive, never to be seen again.
This should not be!
There are plenty of awesome things you can do with your digital vacation photos, many of which don't cost a penny. You certainly can handle your digital photos like film photos and order prints for the album or upload them to Flicr or your favorite social networking site, but there are lots of other options available too.
Picasa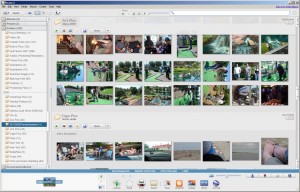 There may be no better photo organizing and tweaking software out there than Picasa.  It's a Google program and is completely free to download.  It allows you to choose which folders it will always scan to look for new photos.  It has an easy to navigate interface that displays folders chronologically.  It has plenty of features for fixing your images, like straightening or adjusting contrast.  You can even add blur or film grain effects, or make your photos black and white or sepia toned. It is certainly not as full featured as a program like Photoshop is, but for the average user trying to organize and pretty up their snapshots, this is the perfect tool.
One of the other great features of Picasa is that it shows if the file has geotag information, a security concern for some, and allows you to scrub that data in one easy step. Or, if you are a fan of geotagging your photos, you can also view a map of where all your pictures were taken. Once you've finished tweaking your pictures, you can then upload them to a Picasa album, make a collage, movie, or gift CD or even order prints from a number of providers.
MapHook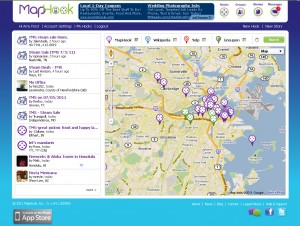 MapHook is a fantastic service available through the web or as an app on your iOS device (and coming soon to Android). You create a post, or Hook, with information on where you are and what you're doing.  The GPS chip in your phone will pinpoint your location on a map, or you can adjust your location manually.  You can upload pictures to go along with your Hook.  When you've finished, you can choose a category for your Hooks and even pick a group to share them with.
Once you've got a bunch of Hooks from your trip, MapHook gives you the ability to link them all together into a story.  It's a really fantastic way to put all your pictures and description of what you're doing into one place.  You can even create a private group, say your family, and post your Hooks so they will only be visible to those people.  It would be a great way for everyone to document an event, like a family reunion, from their perspective. Imagine each family group making Hooks of their travels to wherever the reunion is and then documenting everything that goes on at the event. No matter how hard you try, you're bound to miss taking a photo of some part of a big event, especially when there are  a lot of people. By combining all your Hooks into a story and publishing them to a group, everyone is able to share their photos and memories with everyone else.
Another handy MapHook feature is being able to browse Hooks that are near your location. If you're traveling in an unfamiliar area, you can check out Hooks that other users have made to find places to eat or things to do. Several of the categories have built in forms that help users to rate restaurants or places that they've visited. Even if you wind up in a place where you don't have any internet connection, you can always build your Hooks and save them as drafts. That way, when you're connected again, you can publish them all without risking forgetting the details of your adventure.
Blurb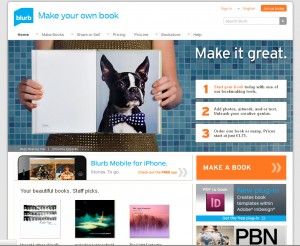 Once you've got your photos prettied up and organized, they are still sitting on your hard drive.  You can always get prints for the album or scrapbook, but if you're feeling a little more ambitious you can order a hardcover photo book from Blurb. One of the really great features about Blurb is that there are several ways to create your book depending on your level of technical skill.  They have an online book builder that works very well.  You can upload your photos from your computer or access them directly from your Picasa or Flicr account. From there, you can choose to let the program place the photos for your or you can manually choose which photo goes where. They also offer a free downloadable program to build your book. It works very similarly to the online book builder, but is more fully featured and doesn't rely so heavily on having good bandwidth for it to work. If you are particularly digitally savvy, you can upload a pdf directly or use their brand new plug in for Adobe InDesign.
Blurb offers a variety of bindings and paper qualities.  You even have the ability to share your book with others or put it up for sale on their store. The price of your book is based on the quality, size, and number of pages.  They do offer discounts when you order multiples of the same book. When all is said and done, you wind up with a professionally printed photo book that would look great on anyone's coffee table.
Summer is a time to get out of the house and go on adventures.  Make sure you document them well so you can relive all those good times for years to come.