Last August, some friends of ours had a precious little girl named Ainsley.  About 2 months before she was born, I started working on a quilt for her.  I got behind on some stuff, and decided to save it for Christmas.  When Christmas rolled around, I was again really busy and didn't finish the quilt.  It's finally finished and has been sent off to them.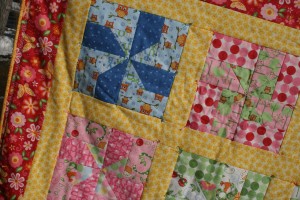 It's my first quilt using a jelly roll.  For those not in the know, a jelly roll is a collection of 2 1/2″ strips of coordinating fabrics.  Moda makes some of my favorite fabrics, and their jelly rolls are a good (and affordable) way to get a sampling of them. In addition to not having to cut the fabrics, there are a lot of free patterns using jelly rolls to choose from.  I used this Whirly Wheels Baby Quilt pattern from the Moda bake shop. The only change I made was that I only used 12 squares instead of 20.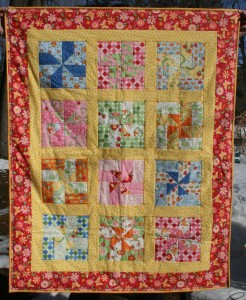 I loved this pattern since the last few quilts I had done had been relatively simple, and I was looking for something that was a bit more challenging. This was also the first quilt I made with my brand new sewing machine.  A few of the squares turned out a little lopsided while I was getting used to the new equipment.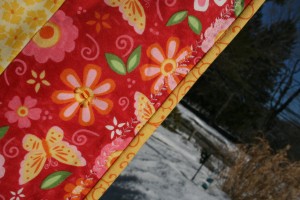 As a little added detail, I put a decorative stitch all along the border.  This took ages (and tons of thread) but I think it really adds a cute touch. It also manages to catch the binding on the back that was a little uneven. This quilt had a lot more steps and took a bit longer, but I think the end result was really fantastic.